An Enchanting Woodlands Wedding Location
Tucked away in the stunning Northamptonshire countryside, our intimate wedding venue, The Woodlands, is a beautiful outdoor space where couples can get married surrounded by nature.
From summertime ceremonies to twilight festivities, we cater to all wedding types and will ensure each and every one is entirely unique.
The Woodlands offers more than just a picturesque setting. You can enjoy exclusive access to our enchanting forest village, which includes both indoor and outdoor ceremony locations, a luxury tipi, an outdoor kitchen, a firepit, and onsite accommodation for you and all your guests.
Based in the East Midlands, we're perfectly located and easily accessible for areas such as – Northamptonshire, Leicestershire, Nottingham, Derby and Coventry. Our gorgeous wedding venue, although nestled in the quintessential countryside is 15mins drive from major road links such as the M1, meaning you can spend less time worrying about travel plans and more about the magic of your big day.
We are passionate about making every element of your wedding day perfect, and we believe our charming woodland location is the ideal place for a truly unique and unforgettable wedding.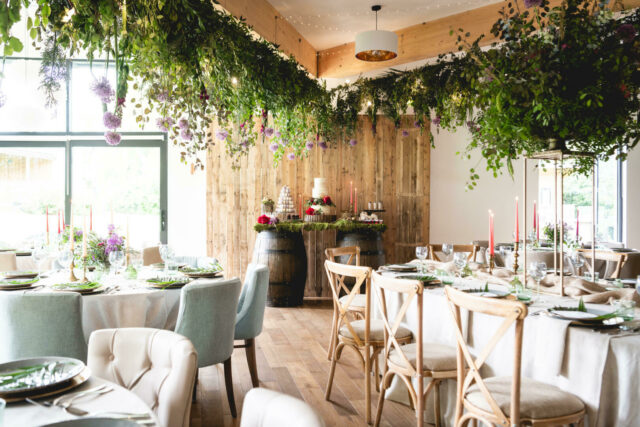 Why Choose Us
As soon as you visit The Woodlands and meet our award-winning Weddings Team, you will realise that your big day means as much to us as it does to you.
With over 20 years of experience, the team will instantly make you feel at ease and part of the Hothorpe family. You can be confident your special day is in safe hands.
Our personal approach means you can relax, knowing every element will be just the way you want it.
Sustainability
On your wedding day, you will be immersed in nature, so we want to ensure that your big day has the smallest impact on the environment. This is why sustainability is hugely important to us, from sourcing local produce to providing you with eco-friendly toiletries.
Meet The Team
Our wedding team is like no other. Their vast experience and industry-leading expertise enable them to make you instantly feel at ease, you will quickly realise nothing is too much trouble.
Meet The Team