Every detail matters
The Woodlands benefits from having a kitchen team lead by an Executive Head Chef of the highest standard. The carefully curated wedding breakfast options and on trend evening food choices are designed to delight, impress and above all taste outstanding.
The best local produce
Our Head Chef is particularly passionate about sourcing ingredients locally to support nearby producers and ensuring only quality ingredients make it onto their plate.
From lemon and chili prawn skewer canapes to a Woodlands beef fillet with toasted croutons, wilted spinach, topped with field mushrooms, and Madeira jus signature main, you and your guests won't be going hungry anytime soon!
Something for the evening
We also offer evening meals that make the most of our picturesque grounds. Fire up our outdoor wood-fired pizza oven for a fun buffet, or enjoy the cosy smells of the Woodland fire pit while cooking a range of delicious meat and vegetable options.
Experience street food from around the world in our Woodcutter bowl foods – the vibrant colours and fragrant smells are sure to get everyone's attention.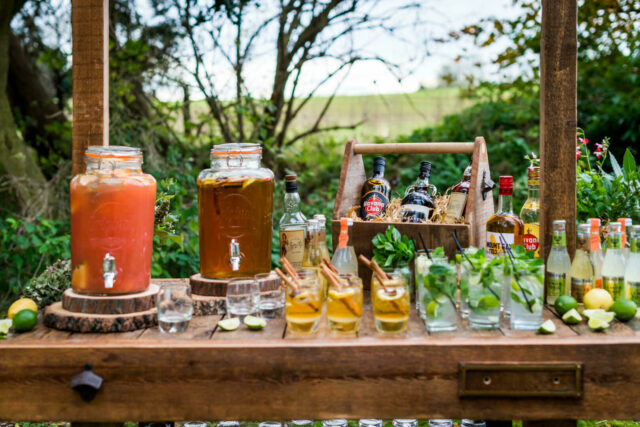 Inspired by the woodland
Our experienced bar team has been inspired by the stunning woodland scenery and built this into their bespoke drinks menu.
For summer flavours enjoy a Raspberry & Elderflower fizz – a delicate blend of gin, lemon juice, raspberry puree, and elderflower topped with prosecco.
Cosier, winter vibes can be found in the Hedgerow Royale featuring muddled blackberries, cassis, squeezed lemon juice topped with prosecco.
There's also a range of Woodlands mocktails, including a Passion fruit & Strawberry cooler full of passion fruit puree, mulled strawberries, fresh lemon juice, and apple juice.
Tasting Menu
Once you have decided to have your wedding at The Woodlands you will then be invited to a complimentary Wedding Menu Tasting.
You can experience first hand the options you may want to choose for your wedding day.
You will receive Canapés on arrival with a glass of Prosecco. White wine tasting during your starters (one each from the deluxe, Superior and Premier package) Followed by Red wine tasting during your main course (one each from the deluxe, Superior and Premier packages)
Each person chooses one starter, one main and one dessert from the wedding menu to taste.
You will also have a chance to talk your Wedding Coordinator, Chef and Food and Beverage manager to ensure everything on your special day is exactly how you want it.
Take a closer look
The Woodlands offers an extensive menu that covers formal and informal dining options, a carefully selected children's menu as well as a number of different options for evening food. From exquisite canapés, contemporary starters, signature mains, and delicious deserts to wood-fired pizzas, Woodcutter bowls, and grazing tables – we have it all.
View Our Food & Drink Brochure