A beautiful place to hold your ceremony
The Main Venue at The Woodlands
This contemporary indoor space is versatile and can be used for any type of wedding. Modern and sleek in design the panelled wood exterior enables the building to easily blend into its forest surroundings.
It can be used for ceremonies, receptions, and evening celebrations. Large windows allow the ceremony room to look out onto the beautiful woodlands. In summer and spring, the room is lit by the sunshine pouring through the treetop canopy. In winter, the dramatic silhouette of the surrounding trees provides the perfect backdrop.
The space allows for a seamless transition from day to night without impacting guests. This means you can have your ceremony followed by reception before enjoying a spacious dance area for evening celebrations all under one roof.
The main venue has two rooms, the ceremony space and the main dining area, which are directly linked via the central main bar.
The ceremony room with its large windows is complemented by the main dining area with high ceilings and striking wooden beams. Each room can be easily transformed to match your wedding theme and has enough space for personalised features such as photo booths.
Even if you decide to have an outdoor event it's always reassuring to know you have full control over what happens on your special day and worrying about the British weather is one thing you won't need to do.
The Ceremony Room
Versatile and easily adapted to any theme or style. The ceremony room comfortably seats up to 90 guests. With beautiful floor to ceiling windows looking out into the woodlands, the sunlight beaming through the trees will make it feel like you let nature into our contemporary indoor venue. This spacious room provides the perfect canvas on which to design your dream wedding – decorate the room with flower arrangements, twinkling lights, or quirky decor to make the space truly unique. When the ceremony is over it can then be transformed in to a spacious dance floor for your evening celebration. With views over the surrounding forest and woodland village this space is perfect for any ceremony.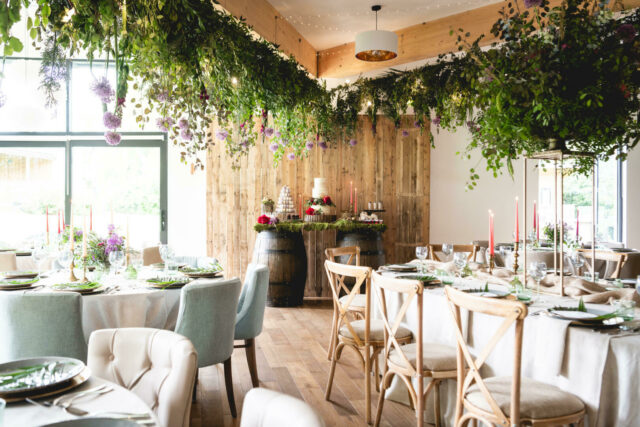 Dining Area
This wonderful room with high ceilings and wooden beams is perfect for any wedding breakfast or celebratory meal. A light and airy space which is versatile and functional. Easily styled you can be sure you day will be truly unique.
The Bar
Located in the centre of the main venue, the bar is the perfectly positioned to ensure guests are always connected with every element of your special day. Whether its drinks after the ceremony or a place to greet evening guests the central position ensures there is always a great flow and connection with your guests and the venue.
The Terrace
Situated directly outside the main venue the terrace is the prefect place for guest to sit and chat away from the main event but still be in close proximity. Perfect for drinks on a summers eve or a place to get cosy with a blanket in the autumn.