Rustic Weddings
Embrace nature with a rustic woodland wedding.
The Woodlands at Hothorpe is tucked away in the gorgeous countryside, it's natural beauty is breathtaking and looks stunning in all seasons making it an authentic place to hold a rustic wedding.
Our experienced Weddings Team will be with you every step of the way to create an entirely bespoke wedding day using this incredible woodland setting for the perfect outdoor rustic wedding.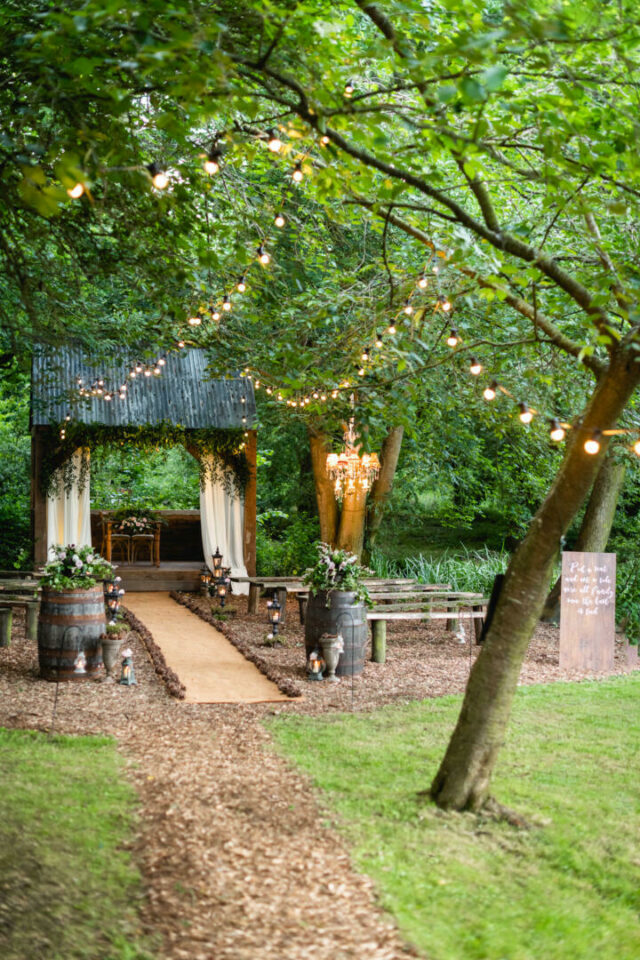 The Woodlands is more than just a unique forest space – you can hold your ceremony amongst the trees in The Hideaway, or tie the knot in our contemporary indoor venue.
There are also outdoor areas such as a luxury tipi and cosy fire pit for guests to mingle around. Beautifully inscribed wooden signposts guide your party around the grounds, while barrels dotted around the space serve as tables for guests to gather around with drinks in hand. Add mason jars with lit candles for a charming rustic vibe.
When it comes to decor, embrace the beauty of the woodlands surrounding you. The branches provide the perfect opportunity for draped flower garlands, flickering candle-lit lanterns, or pretty paper decorations that can adorn the trees around you.
Our indoor woodland venue also provides the perfect canvas on which to use the decor of your dreams. The huge glass windows let light pour in, illuminating the space with a cosy glow. Bring nature in with branches entwined with ivy, flowers, and garlands, or set up a charming candle display on top of logs from the forest.
Take inspiration from the countryside – wildflowers make for a gorgeous floral setting, mixing familiarity with delicate charm. Channel the magic of the woodlands with primroses, snowdrops, bluebells, anemones, ferns, and fir springs for a deep earthy feel. Or transport yourself to beautiful countryside meadows with poppies, cosmos, buttercups, chamomile, lavender, and ears of wheat.
Al fresco dining
At The Woodlands, there's a full outdoor kitchen where our dedicated Chef's Team will create stunning dishes from our wedding menu. The team will work with you whilst you're planning your big day to ensure the food and drinks are exactly what you want. Our Head Chef prides himself on using locally sourced foods for nature-inspired dishes that make for quintessential rustic dining.
Sweet Treats
End the meal on a sweet note to suit your rustic wedding. We use the finest seasonal ingredients and are able to cater to all your guests' dietary requirements.
Rustic Gathering
Grab some marshmallows and gather around the fire pit.